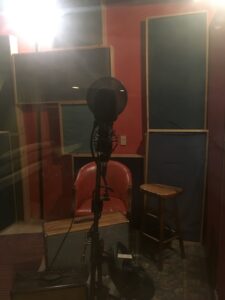 I do professional voice over and karaoke vocal recording at Bad Racket Recording studios. If you already have the instrumental, or you do Karaoke to accompanied or some other sort of beat or even acapella. Whether its a cover, or an original, we can use the same professional recording tools and professional skills and services to have a professional karaoke recording of your favorite song, or an original composition. The recording studio is not that different than a Karaoke bar, you can choose whatever song you want and sing your heart out, and at the end I can give you a CD with the results professionally recorded, mixed and mastered to the finest quality. You can bring a thumb drive or upload it to google drive or use wetransfer to send it to me. EVen links to soundcloud, youtube, or other places can be used sometimes, as well as our vast library of over a million songs. We support all multimedia formats such as mp3 mid m4a. WAV or AIFF.
Join the music community and sing along with your smartphone or android. Record a karaoke performance in our award winning recording studio!  Get a professional recording at my recording studio and sound like a professional! Using the best microphones and recording software tools., we mix and master your music using the latest tools like plugins from Slate Digital.
I provide the highest quality of recording possible in any situation, and I pride myself with taking the time to make the very best recordings. The Karaoke experience in Cleveland has just been brought to a new level with a private intimate setting where you can do as many takes as you want. Unleash your inner Mariah Carey, Beyonce, or even Elvis.
Add a video element with a green screen or video production package for youtube or marketing. We can do 4k video and professionally recorded video too.