Audio book recording at my Recording Studio in Cleveland is. I produce a great many audio books, podcasts, and radio shows for sites like Audible,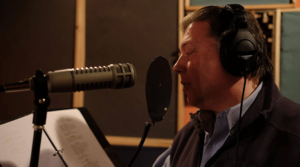 Amazon.com, and iTunes. A typical session starts with recording, and ends with delivery of files. We can editing, add music and effects, layering opening and closing music or sounds. We are also capable of recording multiple people at once.
I have a comfortable studio to record your book or narration. The session is booked with a deposit, and studio cost covers engineer, studio, SFX, music and editing.
We have an extensive list of voice over talent, and a price for voice over talent can be negotiated separately from the studio engineers fees.
Contact me via badracket.com for a custom quote or free test recording.