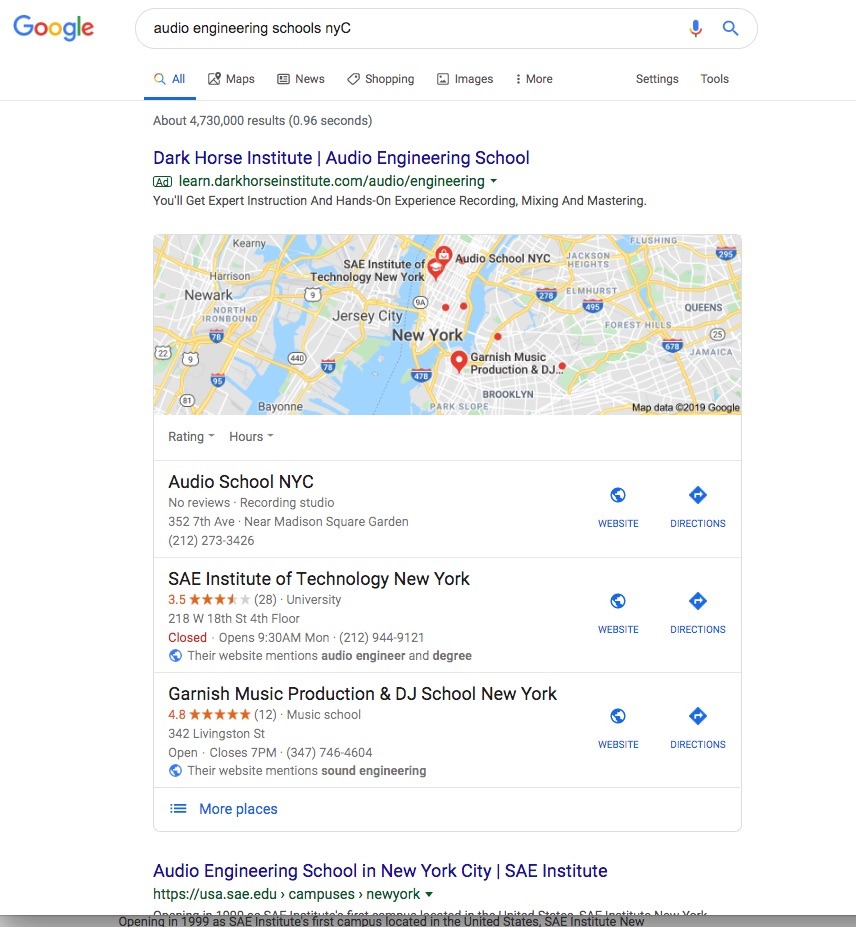 New York City offers a few different recording school programs. None of which are cheap. Which might suit you best if any?
You could search on forums or try to find reviews, but you'll soon find there's lots of recording schools in NYC, and Los Angeles. If you're looking for suggestions for audio engineering schools in NYC, you can find tons of search results online.
SAE has a campus located in Manhattan. They offer classes and one-on-one training with SSL 400G+ and AVId Pro tools training etc. 
NYU Steinhardt offers a music technology program. Their degree focuses s on a wide range of music technology and liberal arts aspects of skills needed for audio engineering, post production, music production and more.
IAR (Institute of Audio Research) has courses for music production and audio engineering, classes and experiences crafted by faculty members with Grammy, Tony, Emmy and Oscar nominated talent. Last i heard it was around $20,000
Of course Recording Connection and other pay for in-residency or internship programs exist, but if you're really looking for experience, a pay as you go system in place with the studio of your choice might be more tailored to your individual needs. 
If you're looking to get an internship or apprenticeship in NYC or any other city, be wary of pitfalls. Studio owners and managers are eager to take advantage of free labor. If all you're doing is packing boxes, cleaning, and making coffee, your exciting internship can quickly turn into a dead end office job with no pay. 
Try to find a great engineer who's willing to teach you for a fee you can afford. While free labor is great, we can almost all afford to pay a little for valuable information or a meaningful experience. 
Try to find people or material you can show your competency mixing, recording, or otherwise doing audio. A friendly face goes a long way, and the sooner people start paying your and trusting you with their best material, the sooner you'll start actually learning. 
Networking and making personal connections can make a huge difference. Try to attend any social event related to audio. This is an acceptable time to approach new people, when its not interfering with people's work schedule. Your enthusiasm for finding new connections can easily be put to work by studios, who need top talent willing to talk to clients and who aren't weirdos. There are relatively few stories of people sweeping the floors and then all the sudden they're mixing the records. 
Social media is a powerful tool for networking. Find out what people are doing, if you can get in their DMs you might make a special connection. Tools like messanges, liking and commenting on things you are interested in help people get to know you a little bit. Then hopefully you can meet the right people in the real world someday. 
Whether you're a musician, ameteru, music enthusiast, or just a student interested in audio engineering, you can't guarantee success, and any program can be a scam, if you have unrealistic expectations of this highly competitive field. Music business, and the entertainment business in general, have no short of cut-rate producers, and half-baked talent. Studio owners walk a tricky fence of giving opportunities to people and paying the bills. There will always be a need for new people to do the work when the regular person is sick or dead. 
As long as you work hard and try to do a good job and make everyone happy (Which isn't even possible 100% of the time) there will be work for you. If you do a poor job, don't communicate effectively with people., or otherwise don't provide a good experience for your customers, you will get less and less. Meet people face to face with who you are and what you or your organization has to offer. A lot of people need quality material, and meeting new talent and good energy people is what forming top tier teams is all about.