About James Kananen: Cleveland Ohio Record Producer and Recording Studio Engineer
Based in Cleveland, I work with teams in Cleveland, as well as Columbus, Pittsburg, PA, Michigan, Cincinnati, Buffalo, NY, Chicago and NYC areas, Ask me about recording, mixing, mastering, audio post production, commercial voice over, podcasting, and more.
Services
I Music Producer / Record Producer / Recording Engineer / Recordist / Mixer/ Audio Engineering professional based in wonderful Cleveland, Ohio.
Active since 2009  to present (2018) in Cleveland Ohio's Best Audio Engineer and Record Producer Engineer and Mixer
I'm always excited about hearing new music and sound recording projects, and working with audio and sound is my passion. My Recording studio is Bad Racket located downtown Cleveland, Ohio. I am a technogalianist and transhumanist.
Professional Skills and Credits as a Record Producer and Engineer Mixer
Ive been told i have skills which are valuable professionally and flexible to many work environments. I've been the sound of some of your favorite local albums since 2009. I've showcased my talents on many recording and producing projects, so I work both with band visions and afterwards to help accent and fine tune the recording for production from my Cleveland Ohio Studio. As both a record producer and recording engineer, and artist, And all all-business sense of humor and wit, I'm the kind of guy your project needs and deserves.
You can Check out many of my works at badracket.com/work
Intro
Every time you hear a cool local band, its likely I've either worked with them, know them personally, or have produced some sort of recording or live sound even for them. Besides someone out front rocking the tunes, you need someone behind the scenes with an undying commitment to your artist vision. With the ability to amplify your success, fine tune your sound, and achieve a greater impact that lasts longer and stays relevant past when it was recorded, You need  Cleveland's best and most experienced producer.
From savage punk legends, to suits and ties, business professional types, I've recorded it all. In almost all styles, but I'm Excited to hear new music and experience never before heard sounds!
James Kananen
It's not always the case, but occasionally you get a glimpse behind the spotlight into the man or woman behind the mix. As a member of the "Cream of the Crop Club" I offer more than what you were expecting. From analog to digital recording, The many different possibilities are endless. I work and create in a variety of mediums. Like paint, I draw from a series of sonic colors and work to create a custom process and highlighting the differences, contrasting between tones is a great way to achieve the best possible recording over the widest dynamic range. There are a million different buttons and knobs in the studio. The difference is knowing which ones to change.
In the Beginning 2009 to Present
I started out on a parallel path with Thomas Fox and Adam Wagner, in a dingy warehouse on Cleveland's West side. We partied hard, but we worked even harder. The result was us spending an exorbitant amount of cash moving to a new location downtown with a larger space, and lush accommodations. Starting from high-school with a passion for music, light bulbs went off after i abandoned the more traditional route and  dropped out of college and decided to start a career as a music producer. I shifted trajectories towards recording full time in about 2011 when I began a fully immersive study of music and sound production which continues into the present day. I've recorded bands from all around the world in many different recording studios and locations.
Music Production In Cleveland Ohio
I do music arrangement instrumentation and guidance with music production in the recording studio. Im a multi talented artist, producer, songwriter, and audio engineer for over a decade. I currently do music production out of Bad Racket Recording studios a full service audio and video production company. Bad Racket operates out of downtown Cleveland. From our studio in downtown Cleveland, we host creative talent and performers from around the world. We enjoy creating original work and collaborating with a team of dope artists and dope team members on tour, or from anywhere around the world.
Ive produced numerous EPs, from dance-pop to original remixes of harmonious sounds uplifted by motivating frequencies from the heart and blood and sweat to the tears and emotions of your music performance, we listen to your music and guide you from music creation, to interviews, live performances and upcoming shows, appearances, and whatever else your life may throw at you. My goal is to create and build relationships with you, create history, and keep the good vibes alive.
Audio Engineering: A Passion for Music and Sound Production
I've been pursuing my passion for music for over a decade. Mixing and mastering numerous songs, and working in almost every genre. After many years tuning my ear in the studio environment, i'm ready to show you my true passion for mixing producing and recording. After opening Bad Racket Recording Studio, I connected with the community through a series of live shows and performances in the old studio space in Ohio City. After producing and recording many of northeast Ohio's top performing artists my sound has helped local and national artists connect to new audiences around the world. As Bad Racket's in house producer, audio engineer and mix engineer. Ive been able to work with an impressive array of notable clients. These experiences have allowed me to learn from and gain influence from  the best talent the music industry has to offer. In 2014 I teamed up with Henri Rapp to move Bad Racket from a dingy warehouse to its current state of the art facility in downtown Cleveland, where i currently serves as head of engineering. With the New Bad Racket i was able to craft new sounds that would define my career, and the careers of other artists and producers, both regional and national artists. My dedication to the passion for creativity drives every project to new higher potential.
Audio engineering in Cleveland Recording
Editing, pitch correction and anything you need to turn your rough demos or recordings into finished recordings.I have the experience with editing to produce world class results from Cleveland, Oh. I attended Penn State University as an IT student, and took classes at the Conservatory of recording arts in Mesa, Arizona. As a communication and business manager, I ultimately am a customer service specialist in the recording and entertainment industry. I am a communicator for artists and a voice for talent. I am a master editor, story teller, and content creator. Every artists, band, actor, or actress, organization or small business can benefit from my professional creative content. At Bad Racket Recording studio, I am head of audio engineering From being a DJ and an artist, I can cue up your favorite tunes in between takes. Let's listen to your favorite songs to get into the vibe. I have a passion for bringing your energy to life. Most notably, I have worked as a dishwasher at TGI Fridays for a couple months before I got fired for composing a symphony on pots and pans, as well as recording an entire heavy metal rock album on the cooking line during dinner rush hour on Friday night.
Mixing and Mastering
I will mix or master your audio at my recording studio; Bad Racket. Most notably, I have mastered material recorded 20 or 30 years ago, and I am constantly learning. The result is i can bring the best vibe and highest level mastering engineering to present your creative work in the best light. I wasn't born in raised in Cleveland, but I've lived all over, and been coming here all my life. From a visionary  with a concept, to execution and presentation, Ive designed Bad Racket Recording studio to be the best listening environment possible. This has allowed me the freedom to experience all different types of music from the Cleveland music community, and from around the world.  Audio and Mastering and music has always been a passion in my life. Now after years of sharpening my skills, I'm ready to help you, even if you're just starting to make a name for yourself. I've been Cleveland's Go-to option since 2009 for Mixing and mastering audio. From conception to the cover art. My abilities are backed up by an extensive list of elite clientele who appreciate my unique style. If you have an idea, I can help bring it to life.
Business Partner's: Brit Fox Henri Rapp and More
Brit Fox Executive Producer
Brit Fox is a music Producer and Audio Engineer at Bad Racket recording studio.
Henri is my new business partner and we run Bad Racket Recording Studio together. With two powerhouses of talent and a dedicated work ethic to the craft, we bring more than being just being  skilled producers to the table. A lot of moving pieces begin to move together once you get two heads together, and we will continue to improve our studio equipment and knowledge.
A Vision of Greatness
One of the biggest challenges of recording is capturing the dynamic performance of the artist and a final cut, never to be changed again. In reality songs are all works in progress. You have to decide how it's gonna be forever on a recording. Keeping a perspective as an unbiased third party can be important to guiding the project to its final form. The music producer digs into the guts of the song and the lines get blurred between artist and the person capturing it as the lens of the recording comes into focus. Lets talk about what you're into, what you aren't, and start to think about where you want the project to go before, can be helpful before everyone invests themselves in the project. I'm willing to do whatever it takes to make the project a success. I try not to impart my personal tastes on the band. Ideally I want the band's own style to come through. I try not to push my opinions to hard and listen to the personal tastes of the band.  I like to track live, and doing full takes of the band together is the best way to get the basic meaning of the sound on to the recording so we can start perfecting, and layering, carving out the solos, and doing whatever is needed to make the record sound like the tone that the band had in mind for the record. I've done 1 hour sessions, and I've done 16 hour sessions,  and I will do what ever it takes after that to carve a path for the album as a Cleveland Ohio producer Knowing what role im playing, and balancing different people and personalities in the studio is key to make sure we're going in the right direction. Everyone has individual ideas and talent, but bands really get into their specific parts and making sure it all comes together cohesively and the movement of different parts within the focus of the song is important to maximizing your chances at potential greatness.
Song Writing from a Global Audio and Sound Perspective
That's what makes songs great. Sometimes you focus on the drums, the bass, the guitar, the voice. There's so many different interesting pieces together, and making sure they don't fight each other is key to making your recording a success. As your record producer, I can focus on collaboration to make the best version of the song possible. The music industry is total chaos anyway. We have to move fast to produce great results and move on to the next thing, and customers demand consistent and high quality results.
The problem with thinking that you can just record it at home and send it out to get mixed and mastered, is that the room and techniques as well as equipment all affect the sound. A competent record producer or music producer audio engineer can help you move your craft towards perfection.
We're turning Cleveland into a recording Hub. Cleveland music is fantastic, but there are a lot of other people in other places that could benefit from our perfect recording environment in downtown Cleveland: Bad Racket Studios.
If you're a local band, and you're trying to break out of Cleveland, how do you market your music to a global audience? The obvious answers are touring and the internet. Both give you access to fans all across the midwest, Chicago, New York, LA and everywhere in between.  For international bands lucky enough to be touring the US, and the great stuff across the oceans and around the world as a global market comes to Cleveland Ohio, as a place for high quality work. When it comes to ensuring that the studio remains organized and runs smoothly I help artists with recording and mixing systems in the studio., I help with the management, facilitate decision making and use technology skills to help leverage success for artists. I use my audio engineering skills for both analog and digital recording in Cleveland.
Design in Cleveland
I help with design at bad racket helping create beautiful interactive websites through web development . I'm the IT director and website administrator at Bad Racket, so wearing so many hats, as both a part time graphic designer, merchandiser, and keeping ideas fresh makes me a valuable asset to any client. I wasn't born in Cleveland, but I've been coming here my whole life, and Cleveland is where I can home for the past 10+ years. I've been dedicated to the Recording Studio and embracing the turns and different projects and people I have met in the course of the studio's inception in 2009. I've been involved in the music industry in some capacity for over 14 years and on stage, or behind the glass I have what it takes to create something amazing enough to share with the world.
I make music full time. I don't do anything else. Bands have been coming to Cleveland for over a hundred years. Why wouldn't Cleveland be a major music mecca stuck between a few big cities in the midwest. Now that we're in the new studio downtown we're ready to experience our own artistic renaissance, and we've been a staple of the music scene for just shy of a decade. As the linchpin of the music scene, you can see me at local venues The Beachland Ballroom, Grog Shop, The Happy Dog, and Mahall's and as a singer/songwriter, I'm also an accomplished artist. I would describe my own personal tastes and eclectic, a little abstract, and always changing. I'm not the only one who touches the music canvas, and I intend to express your ideas, and not let my own personal tastes overtake your artistic vision.
You can find me on Youtube Tumbr Twitter Facebook Instagram and many other places on the internet.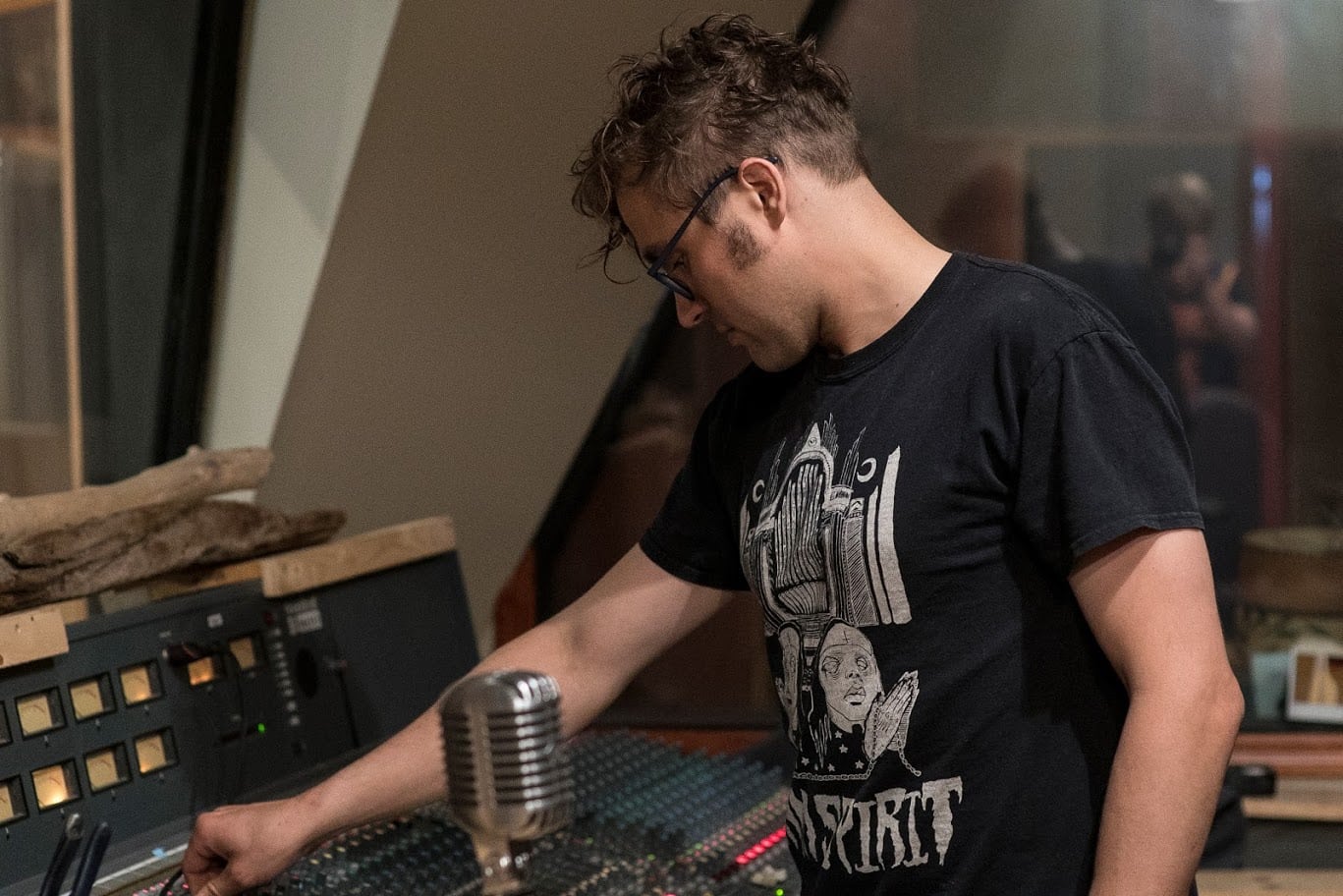 [contact-form-7 id="2685″ title="Contact Me! "]