I do podcast and radio show, and youtube channel videos at my recording studio in cleveland.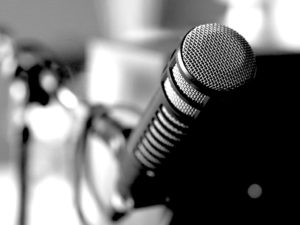 Recording a Podcast in our Recording Studio in Cleveland about…
Podcast recording is the new way people get audio based entertainment right to their smartphones and computers. With the millions of podcasts and millions more yet to come, every kid in his or her basement wants to create a podcast with thousands of followers. While the idea may seem simple. creating and recording a professional podcast isn't as simple as talking into a phone.You need professional mics, a decent environment, and a computer for editing, uploading, and publishing your podcast. With the tons of content out there, getting a professional sounding podcast is as giving , me a call or email.
Podcast Pre Production
Getting it right for the pilot episode is all about getting the right vibe and feeling out of the gate for where you want the podcast to go. Usually, podcasts aren't just people talking, there's sound effects, music and if you want some sort of coherent theme, getting the right music can be extremely exciting and focusing. Commit to a regular soundscape to host your podcast. Review how you will begin each time, and how you will introduce guests or introduce the show. Its also a good way to get the listeners attention and potentially a make or break situation with your listeners. Use a website like pond5 or audiojungle to pick out a theme song or royalty free music sample. If you have some other sounds you want to spice up your first episode now's the time to really make amazing creative content. Don't expect to get rich off the first episode. In fact, most podcasts lose money and probably have a median number of 1 episode. As you build up a following you can get different advertisers or sponsors to help take the financial burden off your production costs. Hopefully the second episode will be even cheaper, and as you build up a listenership, you can make a big enough splash to make it worthwhile for advertisers.
Podcast Recording
3, 2, 1, Action! You don't have to add the effects and sound in until post production. Give me a call at Bad Racket Recording Studio, and we can set up microphones, headphones, Audio interface and computer. We can even do a remote recording with phone patch. We have all the best equipment and a professional climate controlled environment to record your podcast and explore your niche. Just like blogs, you need to pick a general theme and umbrella topic to fit everything under. Don't get discouraged if there are already a broad topic covered by other podcasts, as long as you are creating unique creative content, that isn't a rip off of some old idea. You have to put your own spin on it and connect with your unique audience. For your first episodes, you will likely be connecting with your own friends and base of your own sphere of influence. While it's kind of true that everything has already been done before, .it's your own style and how you do it that can make you and your guests angles personally increasing.
DING. MAKE SURE YOU TURN OFF YOUR PHONE. EVEN VIBRATE ONLY MODE CAN BE HEARD IN THE RECORDING. DING.
Editing and Post Production in the studio
Next, an edit list and post production effects list is in order. If there are mistakes or parts you want to delete or remove, make a list of every cut and every musical or sound effect and time stamp each and every edit.
For example
at 2;05 from "well well well then um" to "and thats about it" at 3:05 remove that.
at 0:30: seconds begin intro music. stop dialog and begin again at 0:35 and fade out music
5:55 remove cough
7:09 silence and water bottle noise.
You'll want your audio files in wav and mp3 format. If you need to upload files, there may be different standards, so be prepared to convert and upload a separate version for each site.
Phone Patch, Skype or Source Connect from our Studio
You can record remotely with a guest in another city, if they record their end of the conversation and email it to you afterwards. Use a service like wetransfer.com or google drive.
A Phone patch into headphones is standard with our recording studio rates, and we can dial and producer or 3rd party for feedback. Make sure that any callers are not in a noisy environment or with disruptive sounds in the background. If you're using multiple sources, its important that parties aren't always overlapping and stepping on one another, You may have to use additional editing and post production to adjust to make sure everything sounds ok. All callers should use headphones or earbuds to avoid looping type interfencance from playback.
Chapters or Episodes
You may want to divide your podcast over chapters if it is long, or giving your listeners easy to grasp segments. Experiment with how your listeners want to experience your audio, and podcasts can be a great feature to produce some of your more polished work. You can skip past segments, or help listeners get to specific information or content faster. With more plays per segment, you can find out trouble sections, or what your listeners do and don't like. Don't forget to reach out to social media connections and follow through with feedback from trusted sources.
Uploading your Podcast
Where should I upload my podcast? Apple, audacity, Pocket Cast, Dogg Catcher, iTunes, Stitcher, they all have podcasts. What ones should I use. All of them, and more. You cant go wrong with pushing out to new audiences. See what works for you, and pay attention to what is working, and what isn't. Optimize for your specific users. Listen to your greatest fans, and don't be bothered by haters, who will just switch to the next channel. Make sure you have a logo and media to use for banners on social media accounts like facebook twitter, and instagram.
[contact-form-7 id="2685″]