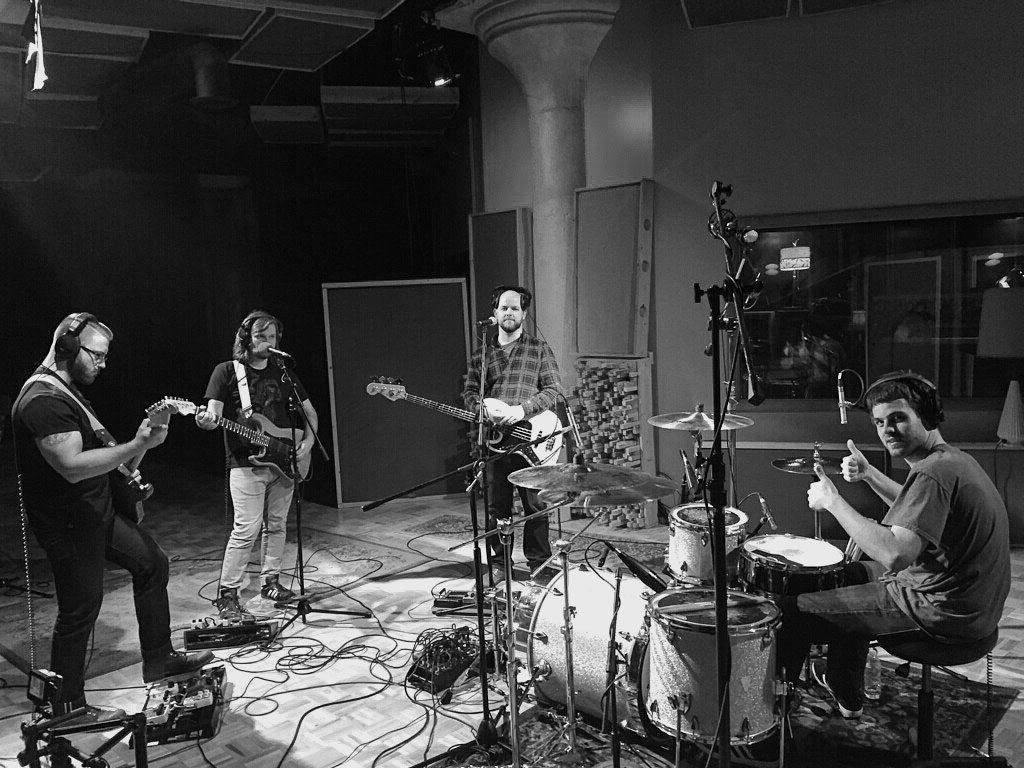 Studio A at Bad Racket Recording Studio is spacious and state of the art. It houses the best microphones,. outboard gear, and instruments. You'll find an amazing collection of the best music and sound recording tools available. From vintage technology to the latest in plugins and analog emulation, we have many flavors from tube mics to incredibly detailed Neumann microphones with the perfect combination of flavor and style, to get the best tones imaginable.
Our outboard compressors including Hairball 1176 and many others achieve incredible performance and a wide range of tasks in the studio. With a high signal to noise ratio and a sound found in records from the 1960s an modern billboard charting hit songs. There is a huge selection of mic pres, Equalizers, and compressors that make Bad Rackets Studio A an award winning standard that produces recordings of the highest caliber.
The heart of the system is a soundcraft B800 and Black lion Audio modified A/D converters within a comfortable design and vibe. The ambience of the recording space has been tailored to create a place where a . musician can feel comfortable and at peak performance working in a world class studio that has been graced by many of today's top artists and musicians from near and far.
The Recording Process
If you've ever recorded a song as a band or live, than you know that it makes a huge difference in the overall vibe and capturing the essence of the song, to have the basic tracks recorded with the band as a unit playing together. In the recording studio, we capture that using windows and various isolation rooms to separate the amps. With all the musicians together in a live environment, we capture the energy or feeling that eye contact and confidence between band members can create. We can always record any overdubs or do any problem areas over once we have the basic foundation of the song.
Live Room Recording
The sound of the room in addition to the hardware and software makes a huge difference in the sound of the recording. The sound of tracks recorded in a professional studio versus a home studio is noticeable and our studio is equipped with the most powerful mix system available along with an extensive list of recording gear, samples, software, and synthesisers.
Music production or composition is the process of creating music or sound from various elements. While many songs are different, we can break down the fundamental music theory of the melody, arrangement, tempo and chord progressions to build up the foundation that will be the final version of the song. I can take your creative vision and help present the basic idea in the best way possible so your material has the best chance at being a hit.
Music Production as an Art Form
Music Production, since the invention of the computer, has been a very computer centered affair, and while gifted engineers have always been adept at technological skills, the creative side of music remains. I have worded for over 10 years with many different artists from various backgrounds. Whether an established artist, or just starting out my approach has been the same. Take whatever sounds you make, and craft them into something that makes th. the best it can be. I can be creative, but also technologically savvy, to make sure what we use is the best you can offer, and using tools, suggestions and ideas to make song ideas stronger and have more impact. Whether your a singer, musician, rapper, or vocal artist, I am ready to creatively connect with you and your music to help you achieve the very best performance. If it's worth doing, it's worth doing right. making an amazing song is not only possible,. it can be exciting and fun. Let's talk about your next recording session today.
[contact-form-7 id="2685″ title="Contact Me! "]