James Kananen Recording Studio Engineer Cleveland, Ohio | Studio Recording | Post Production | Audio Recording | Mixing | Mastering | Music Producer | Recording Studio Engineer

Hi I'm James Kananen a world class recording studio owner,  mix, and mastering engineer and sound production company Bad Racket is a world class recording studio and audio production company. Producing sound and audio mixed and or captured by me using the best recording studio equipment. 
I do audio mixing, recording,mastering, and production from my Studio in Cleveland. Mostly but I do all sorts of audio production and sound supervision and collaboration for radio, TV, film, and commercial audio and video productions. 
I am professional recording studio engineer and owner of Bad Racket Recording Studio in Cleveland, Ohio. since 2009, I have experience with top tier talent and almost any kind of recording project. I bring quality and professionalism to the studio and in the eat of audio mixing and master I bring a refined eaer and comprehensive knowledge of production and experience everywhere.
If you have a bad sound or audio problem, it holds you back creatively, and a smooth sailing experience is better than a stressful one. I'm experienced with an advanced level of audio and sound production in a variety of environments, producing music and recording audio featured in a variety of audio production and video recording projects in my performance space: Bad Racket: Cleveland recording studios
Come listen to the sounds we can create together.
with me the audio & music producer in my studio Bad Racket in Cleveland
I can work remotely via source connect skype video,  dropbox, wetransfer, or google drive for file delivery and remote mixing, mastering, and post production via internet file transfer
I have Source Connect and remote recording options from my local recording studio: Bad Racket.
I do Music, Sound Recording, and Mixing I'm
Producer, Sound Recordist and Owner of . Local Recording studio: Bad Racket,
My comfortable multi room recording studio in Cleveland, Ohio is perfect for your voice over or live band recording project, or  video production space.
I have the professional recording equipment and flexible acoustically designed space that great for recording podcasts, audiobooks, studio voice overs, or producing music digitally or with tracks recorded from musicians playing in the studio. The studio has a large live recording room, space for the whole band and more, and a world class room sound. With two isolation booths and attached spacious control room, we have the most accurate mixing position in Cleveland to ensure a balanced professional sound.
Get in contact with a music producer now text (216) 309-2882
I'm a freelance creative minded audio production specialist, with an awesome space to record, mix, and master music. Every  project I work on is different, and there's isn't a niche I specialize in, but mostly I'm known for my commercial recording, mastering,  and music recording work.
I work with audio for individuals, bands, and organizations for a living. My unique blend of project management and a careful ear to help you get the professional result you want at Bad Racket Recording Studio, or any other live music venue, film set, or remotely through the internet or on location. I really like working on new colorful projects to help tell your story and capture the narrative in your music. From doing the headphone mixes and watching to be sure the levels are good, I produce music that has character and I am fully equipped to record bands live with drums, bass, electric or acoustic guitar, and the recording studio  is fully equipped for a variety of projects.
When we record audio, we begin to capture the material that will later become the final record or track. What we initially record should be the best possible, including using the best tools, and the best techniques, and in the best acoustic space to capture the sound and energy that we're looking to embody.
Mixing and Mastering for Music, Video, Film, Studio, and Home
The recording and playback system at Bad Racket has been optimized over time. Also, my own experience in the professional audio setting is a great asset to artists and performers looking for peak quality and creative control.  Using new tools and technology for music production like Pro Tools, the latest plugins and samples, we can craft amazing soundscapes.
My accurate listening and recording environment equipped with the best tools is one of the most important things to creating the best material possible., Having good speakers in an acoustically balanced environment lets us really hear what's really going on. We work with high quality studio monitors to make sure the final version is ready for everything from cars and cellphones, to cinemas, homes, and  headphones around the world.
Using the best samples and effects gets us the best sound out of your project. With custom effects and EQ on every project, you will get the quality you want with the attention to details you might have missed without my expert and attentive ear. Let's talk about what you want to hear and what you don't.  Communication is the cat's meow!
Sound For Film and Video
Sound is one of the most important elements of film and commercial video. We help with location recorded sound, or add recorded sounds to your soundscapes. We also do custom foley and sound design for full length feature films and creative sound design and custom arrangements for high quality video productions.
With 10+ years of experience, this isn't my first rodeo. I make sure the job gets the quality it deserves and done right the first time. When you hire me you benefit from increased quality and professional services from an industry veteran ready to handle projects of any magnitude.
Working on a variety of documentary and narrative recordings for various productions including ADR via source connect and re-recording mixer and re-recording for major motion pictures. This job has taken me everywhere in the world via digital projects and I've had the pleasure of working with oscar winning actors and gramming winning performers. As part of an all star team hear in Cleveland, Ohio our studio is a creative hup ready with an extensive collection of top quality professional recording ear and equipment.
As a team member working with various roles im ready to bring a new level of quality and professionalism to your production.

Let's let our Nervous Systems get Stimulated from the Sound
The sound goes into your head and stimulates the brain. Hopefully something special happens and your project can become something to remember. I strive to capture the communication response in the brain and engage with audiences all around the world. Let's get together and experience sound recording, mixing, mastering, audio post production, and sound design.  Let's let our left hemisphere brains analyse the sound, and also balance that with the right hemisphere creativity side to help you create the most engaging content possible.
It could be mixing music, audio for film or video , or anything else, I help connect with audiences to stimulate the emotional response of listeners. –James Kananen
Whether its trust, live energy, or another state of mind or mood, I look forward to exploring new areas of expression. These skills of balance and listening are not easy to cultivate. I have a lot of experience mixing, with an ear for problem frequencies and critical balance adjustments and the ins and outs of making sound recordings and records The flexibility and ability to change my views to incorporate new emotional responses, and look forward to listening to your material without prejudice, to make it the best ever.
It's tough to listen to something 100 times and still have perspective for what the next step towards perfection might be, but from making notes of possible problems, and pulling from the best takes, and listening to it at a variety of levels and speakers, I can balance specific listening skills that benefit you the listener!
Music and sound production begins with me (James Kananen) at Bad Racket Recording Studio
Or if you need to work remote, I have source connect an ISDN alternative or phone patch to phone in a producer.
I do a lot of remote audio post production work for film and music. You send the tracks, and list the edits and mixing or mastering steps needed to finish your project. I can listen back in my recording, mixing, and mastering studio and send the finished mixes back to you for your review. You'll be very pleased with your finished audio results.
The Process begins with you!
A lot of making sure things are smooth sailing comes down to planning. During our journey together, I like to work with a clear vision and plan of where we're going. It's a lot like taking a road trip, whether it's a few hours, or a few days, we need to keep going towards our destination without a lot of screw balling and u turns in circles all over the place.
Check out my plan for smooth sailing for studio projects!
What I Do
I'm a recording, mixing and mastering engineer operating mostly out of my Studio "Bad Racket" in Cleveland Ohio. I record mix and master audio for individuals, bands, and organizations professionally. My unique blend of project management and a careful ear will help you get the professional result you want, with the balancing of tones and careful adjustment of the dynamics of your music, speech, or sound. [/vc_column_text]

Multimedia Artist
As an artist, I can help offer creative perspective in a meaningful and respectful way. Your unique vision and personal tastes are taken into account, Whether its vintage vibes or modern production techniques our somewhere in between, every project is unique and given careful consideration

Acoustic Designer
A lot of people have home studios or producer studios that are only used by one person or group. I offer consultation for existing studios as well as new studio construction plans. An experienced ear can hear problems immediately and offer the most effective solution to improve your setup. Everyone's work space is different, and we talk with you to understand that what works for you, and what doesn't.

Recording Audio and Music
I have a lot of experience, and as a professional recording many different styles and content, from rock music, to commercial voice recording I take careful time to make sure your expectations for the project are met. From the microphone to the post production and mixing we have you covered.

Mixing and Post Production
An experienced ear will produce professional results quickly! Don't expect hours of dabbling, things will sound right from the start, and if you have a problem with something, we have no problem fixing it to make it right. There's no magic button, but we can take careful consideration to your taste in music to provide you with the best mix possible.

Mastering in Cleveland Ohio
"I take the time to "put the icing on the cake". Mastering is the overall tonal adjustment and compression and other dynamics of the project. Whether it's polishing off an album, or putting the final touches on a single project, we can help you with the final steps towards getting your stuff out there in the most professionally produced tracks. We can offer professional advice towards where to find the services you need to complete your project and get it into people's ears. I can master audio for Film, Radio, and TV as well as cassette tape. What is the final format for your work? I can help put the finishing touches on an already exciting experience.

Mixing Audio and Post Production for Sound
Using tools such as equalizers, compression, Multiband Expansion, Limiting, Saturation, Reverb, Delay, and Modulation, we can create textures and carve out a place for each instrument; Giving it focus, space, and interest. The true art of mixing music lies in cultivating an aesthetic sound that supports the emotional connection of the performance.

Recording Audio
It's up to you whether you choose to record live as a band, the instruments separate, or a hybrid of the two. I work hard to capture your music appropriately given the context of your creative vision. Through careful choices of microphones, mic positions, and preamplifiers (sometimes their distortion too); everything sits together in a natural way before we even begin to mix.
Did you go to school for this? Is a question I get a lot. Quick answer. Yes. And I have a lot of experience with many types of projects. Helping people is what I do. I would be more than willing to offer advice to anyone willing to value my professional opinion. 

Sound Design
I can help with providing sound and effects for cinematic effect to your production, as well as recording custom sound effects and voice over.

Mixing Audio
Whether its using EQ and tonal adjustments, or using compressors, limiters or expanders and gates to change the dynamics, you can expect careful consideration to your work, and listening to the audio, we can make the best choices together for your specific material.

Voice Over Recording
I do voice over recording for film, commercial, or music. Find the perfect sound for your film project, or hire professional talent. Commercials, audio book, and sound for video. We do a variety of voice recording for narration or voice over for music or radio spot. Whether you have a great voice already or need to hire talent,  I can help as a recording engineer from the convenience of my recording studio downtown in beautiful Cleveland Ohio.

Audio Production
Audio production begins with understanding your goals. I can help you with my unique skills and experience in the professional audio world in Cleveland since 2009.

Radio or Podcast Production
We can accomodate phone patch, guests, and have hosted a variety of podcasts and voice over productions for radio. We can record multiple speakers in a friendly relaxed environment. After recording we can edit and add in effects or music for a professional and creative touch.

Commercial Sound
I can help with sound for Commercial sound and ADR Voice Over. Commercial production begins with a clear understanding of the project goals, and ends with a professional recording for your Radio, TV, Film, or video project.
Records I have Recorded and or Produced 
MA HOLOS

Sweepy Heads
MA Holos
Ju Ju Shrine
Heart and Lung
HUNGR
Shale Satans
Christian Watson
Mary's Lane

Dan Smith
Carpark Records
Cloud Nothings Live 12″

+E Band

Who Hit Me


Seafair
Erienauts
Dead Sweaters

Daveeratu
Firedeath
Bracing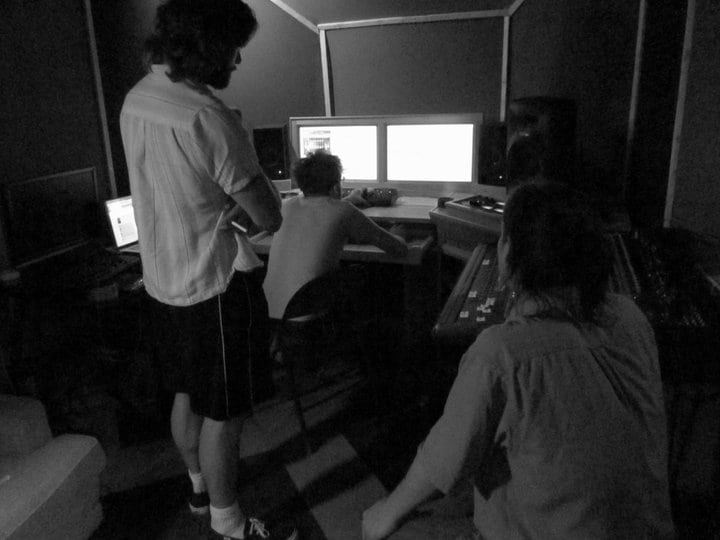 Audio Recording Mixing and Mastering in Cleveland Ohio
Contact Me
Let's make awesome stuff together. I have over 10 years of experience as a recording studio production engineer to help you with your music or sound recording project.
[contact-form-7 id="2685″ title="James Kananen Recording Studios Voice Over, Recording, Mixing, and Mastering Studio Website Contact"]