Vocal Recording in Cleveland at my Recording Studio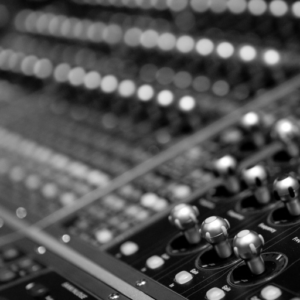 Recording Vocals at Bad Racket ensures your sound is the best it can be. We have multiple rooms, with a vocal booth that is separate from the mixing and live recording room. The vocalist has a personal mixer that allows them to mix their vocals to hear exactly what they want, and adjust the volume on the fly without effecting the signal being recording. Our Neumann TLM103 and U87, as well as other vintage and modern vocal microphones provide a world class sound from our studios in Cleveland, Ohio. We deliver uncompromising sound quality and world class microphones, pre-amps, and production to the community. With excellence in production as well as the proper professional studio equipment, we have the acoustic treatment and knowhow to provide excellent vocal and instrument recording services.
Comping and Editing Takes
We can take multiple takes and comp together the best parts. Best out of 3! Best out of 10? We can pick the best takes, or even best parts of individual takes and make the best performance possible.
Mixing and Producing the Best Vocal take Possible
After recording, we use analog and digital signal processing to get the sound you want. We have auto-tune and multiple compressors and signal processors including 1176 and LA-2A Compressor. Our signal processing, from the latest digital plugins, gives us the ability to produce the best sounding records around.
Let's Do it
Three. Two. One. Here we go. I hit the record button perched over the controls, i listen on monitors or headphones to your performance nodding along to the music or signal. If the sound isn't right, or the notes are flat or sour, the delivery or timing is off, I can let you know something isn't quite right. Even if you have pretty serious tuning issues, we can use auto tune, or go back and record the part again. We can do it a couple times, listen back. and work through it, even if tis a tedious and meticulous process. Its a quest for quality and being creative and adventurous. We're in a studio, but don't be afraid to push yourself and try new things. I like the idea of taking risks and when you're in the studio theres always a way to mute or erase sections that don't work out. Nothing is permanent. I did my first EP when I was about 9 years old. It was songs about brushing your teeth and wearing sunscreen. Nobody probably even remembers it, but we ended up doing 7 takes of guitar feedback and sampling a cat and a dog and layering that into the song. Its been a few years since i founded Bad Racket and I've worked with an impressive array of musicians, but Im not afraid to record the next new thing, and any new indie rock or rock bands, or individual vocalists, rap artists, and hip hop, metal, punk, acoustic, country, noise, its all fair game. EPs Singles, compilations, mastering, song writing contests, as well as music for the back rooms and windowsills of your local record shop, iPod or stereo.
[su_pullquote]I'm just a regular guy. I wake up, I drink a cup of coffee and eat breakfast before I go to work at the studio, I don't put a tie, on, but I can work with people in suits, or people in swimsuits. [/su_pullquote]
From Vinyl and Records to Digital Release and even CD still occasionally.
I know Bad Racket is the best I can offer for recording violin or saxophone, as well as vocals. Through the years, I haven't let failure deter me. Sometimes you have to say, geez that doesn't sound right, or find the sweet spot or perfect delivery of a line. Theres not magic button to make you a star, but we can bring star level production to make your track more impressive, sound better. Ive recorded mix tapes, and demos in my college years, and recorded numerous full length records and albums across a wide spectrum of content. If you're a veteran studio rocker from los Angeles, or an all American band from Cleveland, and you need a helpful engineer and or producer hanging out and helping you with recording, and performing your material for the purposes of recording. We have a ton of gear and the know how to place the right mic on the right instrument, or the perfect vocal mic for your recording. Since 2009 I've been filling my workdays with music and learning a lot and tuning my ear to different types of music. Sometimes i wonder what its like for the water cooler crowd, but hey those people make music too! Bad Racket is the perfect place for your side gig as a musician. In a way, we work in an office too, loaded with a bunch of gear and speakers to use it. I'm just a regular guy. I wake up, I drink a cup of coffee and eat breakfast before i go to work at the studio, I don't put a tie, on, but I can work with people in suits, or people in swimsuits.