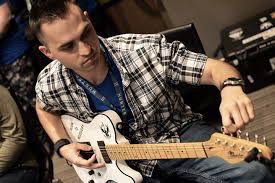 You might think it's all about recording to an iphone these days, but great artists still make better material and more hits from material recorded in the recording studio. The future of sound is digital, but analog devices are still a big part of what we do in the recording studio. In addition. You can record at your house or at a rehearsal studio, but you miss out on the great sounding recording rooms we have at Bad Racket recording studios.
From Downtown cleveland, we offer production services as well as mix and recording engineers for all kinds of music, film and moves. From the outside, it may seem lackluster, but a quick minute, it becomes clear, this is a world class recording facility. With instruments, microphones, amplifiers, guitar pedals, and effects, as well as several production rooms. Bad Racket is a full service recording studio and production facility. Combining analog era sounds with state of the art modern digital precision and computer processing power, we can promise a well equipped workspace for those who want to create music and sound.
Legendary, world famous, Bad Racket Studios is housed in a complex along superior ave in downtown cleveland landmarked by music legends, you're close to vintage gear heaven. We are on the definitive list of the US's top recording studios and a premier audio recording company formed in 2009 and staffed by an elite mixing and mastering squad of talented recording, mixing, producing, composition, and mastering engineers.
We have a vintage analog soul with a clear concise digital memory at the heart of Downtown Cleveland, with an unparalleled of esoteric,m vintage, modern equipment for recording music, video game and film scores, orchestras and hit records. As Cleveland's best recording studio, we provide a high quality recording for almost any budget. From songwriter EPs and Demos, to rap and hip hop singles.